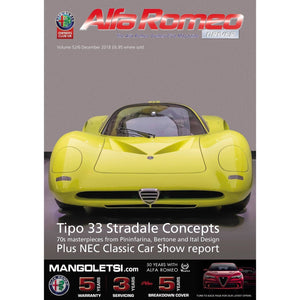 Alfa Romeo Owners Club Shop
201812 Club Magazine - December 2018
The December issue of Alfa Romeo Driver covers (almost) the full range of Alfa ownership and passion. Two very different tales of serial Alfa ownership - Andrew Szemere shares the first instalment of his love affair with a couple of 105 coupés which started and Nick Clode shares the details of his addiction to the 164. Then Andrew Thorley begins his tale of a leisurely trip to the very end of Italy in his 939 Spider.
Viv Stephens shared his passion for the Tipo 33 sports racing cars in the August issue and this time round he tells the story of the road-going concept cars the company commissioned on the T33 chassis.
Changing direction slightly, we have a contribution from Klaas Jan and Regina ter Stege, Jennie Hoekman and René van der Snoek – Dutch Alfisti who visited these shores in the summer to tour the ancient Kingdom of Wessex.
Rounding up Club activities, we have our last event report of the year – Southern Alfa Day. Held this year at the beautiful – but slightly soggy – Winkfield Arboretum in Surrey. And our final international motorsport reports of the season. The BTCC may have finished, but there was still plenty of action in WTCR (if slightly less in TCR UK) and in Formula One.
---
More from this collection